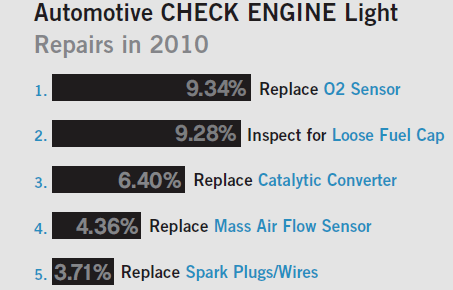 The majority of the top 5 most common failures and fixes in the index are related to durability vs. faulty parts, supporting industry statistics that consumers are holding onto cars longer and manufacturers are making vehicles to last longer. The data also demonstrates that durable parts, which should last longer, are failing more frequently due to lack of maintenance. As vehicles age, the index repeatedly illustrates the impact of maintenance on gas mileage, safety, the environment and costs. Ignoring small problems is fueling more expensive repairs. Additionally, as hybrids are aging and approaching 10 years on the market, the cost of repairs is still high. And, for the first time since on-board diagnostics was added to vehicles, gas cap is no longer the top fix for "check engine" problems. In fact, 4 of the top 5 fixes (replace O2 sensor, catalytic converter, spark plug and mass air flow sensor) are related to vehicle durability.

Hybrids account for 2 of the top 10 most expensive repairs in 2010. The 2nd most expensive vehicle fix for 2010 is "replace hybrid inverter assembly" (>$7,000). "Replace hybrid battery," (>$2,700) is no. 6.
Overall repair costs are down nearly 16% from a high point in 2006. Vehicle owners in Southwest pay 10% more for vehicle repairs than in Northeast and 16% more than those in Midwest.
No. 1 repair in '10, "replace Oxygen Sensor," can lead to a 40 percent reduction in gas mileage if ignored. Faulty O2 sensor costs less than $200, including parts and labor.
From 1996-2009, loose, missing or damaged gas cap was no. 1 reason for "check engine" related repairs. Bumped to No. 2 in 2010, loose, damaged or missing gas caps cause 147 million gallons of gas to evaporate each year.